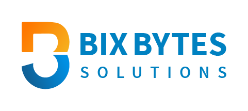 FEATURED ARTICLE
Kafka data streaming
Jun 3, 2022
Kafka makes you faster!
Apache Kafka has had a meteoric rise since its first open-source release in 2011. Today over 80% of Fortune 100 companies use it, but why is this?
What is Kafka?
Kafka is stream-processing software that scales from kilobytes to terabytes and, with SaaS deployments, is accessible to any organisation. Kafka solves data distribution, lineage, translation and streaming challenges in a single application. In software development, Kafka is used for fast communication between different infrastructures and applications through a common platform.
An Example
The image shows a system for selling products online. Customers can check if products are in stock, order products, make payments, and check their order status using the Customer App. The web services can be implemented in any technology: this might be a mix of microservices and third-party applications or a single monolithic web application.
On the business side, existing corporate systems can manage the different stages. For example, orders might be processed by a legacy inventory system, while an online portal provided by a courier handles shipping. The Enterprise Reporting System (ERP) is updated in real-time, while a third-party email and text service notifies customers. Finally, the Customer Relationship Management platform is updated with customer details.
Why Does Kafka Make The Example Faster?
For application development, the systems are decoupled. This allows departments to use the tooling that fits them; not everyone has to change to implement the online store. Secondly, fault tracing between the systems is straightforward – did the message appear in Kafka or not? Thirdly, all the messaging is happening in real-time; no need to download reports to upload to your ERP each month. Lastly, should a system be upgraded in the future, the interfaces are defined and only involve Kafka – something that will likely save a lot of time!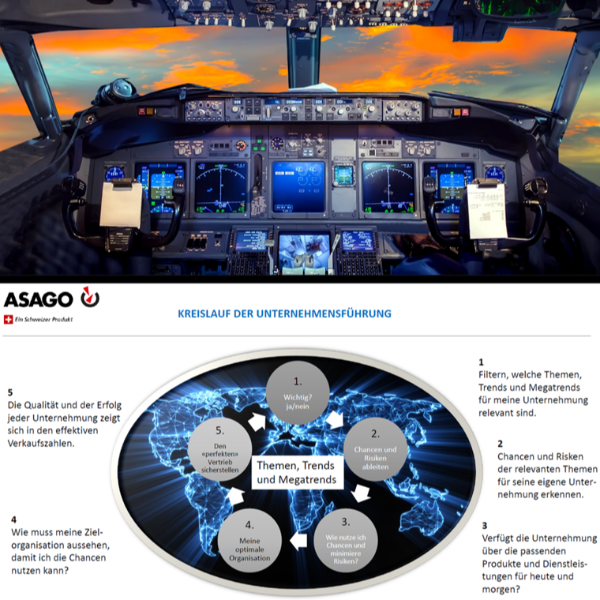 Recent Article
Reference ASAGO AG - Database solution for strategy development
Mar 21, 2022
Who is ASAGO AG?
ASAGO AG was founded in 2013 and is active in management consulting. The focus is on strategy, risk management, trends, and megatrends, as well as optimal and effective sales.
What exactly does ASAGO AG offer?
At the beginning of every strategy consulting is the recognition and definition of the trends and megatrends that are important for the customer. These insights lead to the optimal organization of how a company must position itself. Successful distribution closes the circle. Superimposed we offer a pragmatic risk management, where the customer can recognize his chances and risks and define and implement suitable measures.
What distinguishes ASAGO AG from other management consultancies?
Due to the very large wealth of experience and practical relevance of the two business owners, every collaboration takes place at eye level with the customer. We always view the company as if we were taking on an important task there ourselves.
Who are the customers of ASAGO AG?
The two business owners have partly different backgrounds and know-how, which also affects the structure of the target customers. Clients are primarily strategic and operational management bodies such as boards of directors, foundation boards, executive boards, local councils and management boards. ASAGO AG focuses on niche solutions for SMEs in all industries, foundations as well as municipalities and public sector organizations.
Why are trends & megatrends so important for a company?
We attach great importance to this important topic, as it is a crucial success factor for any company. Trends and megatrends offer both opportunities and threats. We notice that many companies do not deal with this topic systematically enough.
What added value do the databases of ASAGO AG offer?
We believe that systematics and structure lead to success in the short, medium, and long term. With our databases, a customer can ensure this in a simple way. In addition, our databases not only contain logical processes and procedures, but also valuable knowledge in the form of many templates. The customer does not have to reinvent the wheel but can build on the experience of ASAGO AG and other customers.
Why does ASAGO AG work with BixBytes?
Data security and functioning databases with high accessibility are essential in our business model. With BixBytes we have found a partner who can satisfy our needs with a high level of reliability and passion.
How did the switch to Bix Bytes work?
Despite a high level of complexity and comprehensive service packages, the switch took place without any major problems.
How satisfied are you with the new solution?
The availability of the databases is very high, and the stability is very good. However, the most important thing is the good interpersonal cooperation, which is a big part of the success of a collaboration.
Thomas Hirsiger and Renato Sanvido, owners of ASAGO AG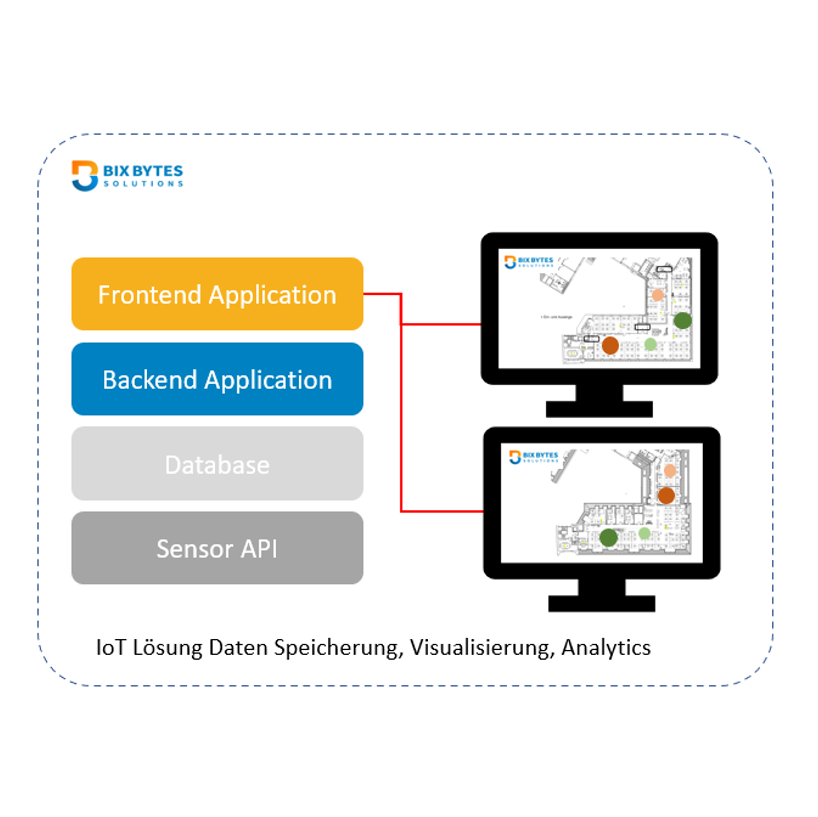 Recent Article
The question employer faces: How can I guarantee work safety at the workplace?
Feb 4, 2022
What is the employer's responsibility?
Employers have a special responsibility to their employees in this regard. Workplace safety is more important than ever in this era of the Corona pandemic. Companies need to consider how social distan-cing works in offices, how to keep aerosols low in offices, meeting rooms and canteens, and thus how to guarantee good air quality. Returning to the workplace must not mean a relapse to skyrocketing infection rates.
How is the quality of indoor air measured?
It is no longer sufficient to intuitively regulate the air supply, temperature and humidity. First, the values for temperature, humidity, Co2 and TVOC (Total Volatile Organic Compounds) must be continuously recorded and stored as raw data. At the same time, the environmental variables such as fresh air supply, heat supply, number of people in the measurement area and outside temperature must be measured and stored.
How is the air quality calculated?
The Co2 load in ppm is evaluated according to the following table.
RATING INDEX CO2 PPM MEANING
| | | | |
| --- | --- | --- | --- |
| Excellent | 1 | 0 - 400 | The indoor air is as fresh as the outdoor air |
| Good | 2 | 400 - 1000 | The indoor air quality is at a safe level |
| Moderate | 3 | 1000 - 1500 | The indoor air quality has reached noticeable levels |
| Poor | 4 | 1500 - 2000 | Indoor air quality has reached worrisome levels |
| Very poor | 5 | 2000 - 5000 | The air quality inside has reached unacceptable levels |
| Severe | 6 | 5000 and above | The indoor air quality has exceeded the maximum workplace concentration values concentration values |
The total of all mobile organic particles is indexed according to the TVOC rating.
| | |
| --- | --- |
| TVOC RATING | INDEX |
| Excellent | 0 - 50 |
| Good | 51 - 100 |
| Moderate | 101 - 150 |
| Poor | 151 - 200 |
| Very poor | 201 - 300 |
| Severe | 301 - 500 |
The relative humidity at normal indoor temperatures of approx. 21 Grand is ideally at 50-70%.
Only when all limits are met can the workplace be classified as Safe. This forms the basis for bringing employees back into the office.
Which influencing factors have to be considered?
Co2 and TVOC levels increase rapidly when there are many people in a small room with little or no fresh air. This often happens in meeting rooms without outside windows.
What is the solution to improve this situation?
First, the data must be collected and made visible to the employees. In a second phase, the room air can be proactively regulated on the basis of the long-term data collected. In this way, the limit value exceedances can be minimized.
By using combined IoT sensors, the measured values can be collected cost-effectively:
Air Quality Sensor for temperature, humidity, Co2, VOC and IAQ (Indoor Air Quality).
People counting sensor
Supply air sensor
Depending on the sensor, this data can be displayed directly or visualized in real time on a dashboard for the entire office area.
Due to the long-term storage of the data, calculation models can later be created using Big Data Analytics, which allow the air quality to be regulated at an early stage based on forecasts such as weather and occupancy.
Bruno Frommenwiler, Head of Business Development, Bix Bytes Solutions AG